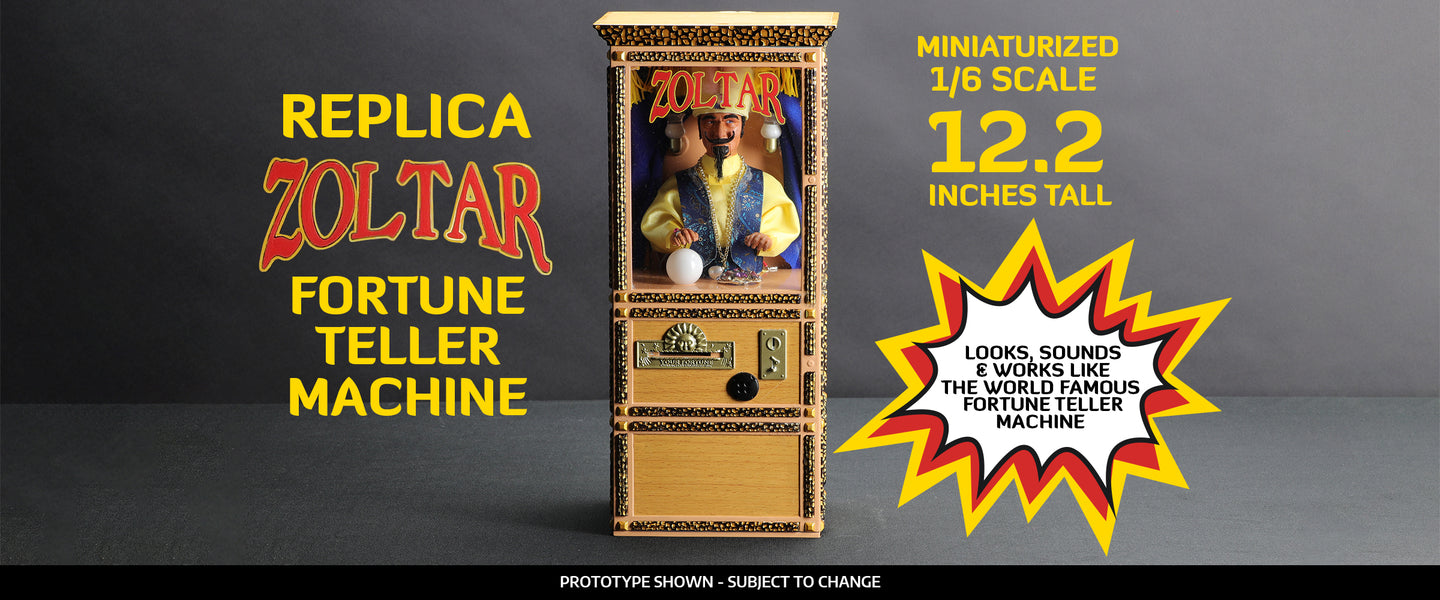 Replica Zoltar Speaks Fortune Teller Machine
UPC: 850009712141
LOOKS, SOUNDS, and WORKS like the World Famous Zoltar Speaks Fortune Teller Machine!
Regular price Sale price Price $124.99
Shipping Info
Please note: THIS PRESALE HAS ENDED. Estimated ship date is Q4 2023.  
All orders shipping to non-US addresses DO NOT include local taxes, import duties, or brokerage fees that may be charged by carriers. If applicable, you will be required to pay these at time of local delivery. Be aware that non-US orders may ship from our overseas warehouse.
Coming soon. Join our email list to get notified when available!
Features
Accurate Replica of Deluxe Zoltar Speaks in 1/6 Scale (12.2in tall)
Fully Animated Head, Eyes, Talking & Arm
Mini-Coin Operated & Free Play Button Activated
Speaks All 16x Recorded Messages
Fortune Card Dispenser  with All  55x Fortunes Included
Attract Mode
Hand Painted & Quality Built with Premium Materials
Reproduction LED Cabinet Lighting Featuring Multi Color Changing Ball
Mini Faux Power Cord
Collector Quality Packaging  & Unboxing
Officially licensed by Characters Unlimited
100-Day New Wave Factory Warranty
Included with purchase
(1) Zoltar Fortune Teller Machine in 1:6 scale
(1) USB-C power cable
(55) Mini Zoltar Fortune Cards
(8) Mini Metal Arcade Tokens
Replica Zoltar Speaks Mini Fortune Teller Machine
New Wave™ is proud to present our Zoltar Miniature Fortune Teller Machine. Our Zoltar Speaks Mini Replica includes all the same details and features as the full size, famous animatronic fortune teller found in arcades, theme parks, gift shops, homes, and various attractions all around the world but at a fraction of the size & cost. Officially licensed by Characters Unlimited.
KEY FEATURES
Our Zoltar Speaks Fortune Teller Machine LOOKS, SOUNDS, and WORKS like the World Famous Zoltar Speaks Fortune Teller Machine. Zoltar comes alive with animatronic mouth, eyes, and hand! 

Prototype shown
Listen as Zoltar Speaks all of the classic recorded messages!

Prototype shown
Insert Mini CoIns to bring Zoltar to life!

Prototype shown

Dispenses authentic miniature Fortune Cards! 

ZOLTAR is officially licensed by CHARACTERS UNLIMITED. Zoltar ©™ 2023 Characters Unlimited, Inc. All rights reserved. 
Frequently Asked Questions
Zoltar runs on a rechargeable lithium-ion battery pack that can run up to 5 hours before needing to be recharged. Note: as a shipping safety precaution, your Zoltar will arrive to you with the battery discharged.

Every Zoltar machine includes 2 rolls of 55 fortune tickets each. Yes, additional rolls can be purchased separately on this website.
Only if you really beleeeeive...