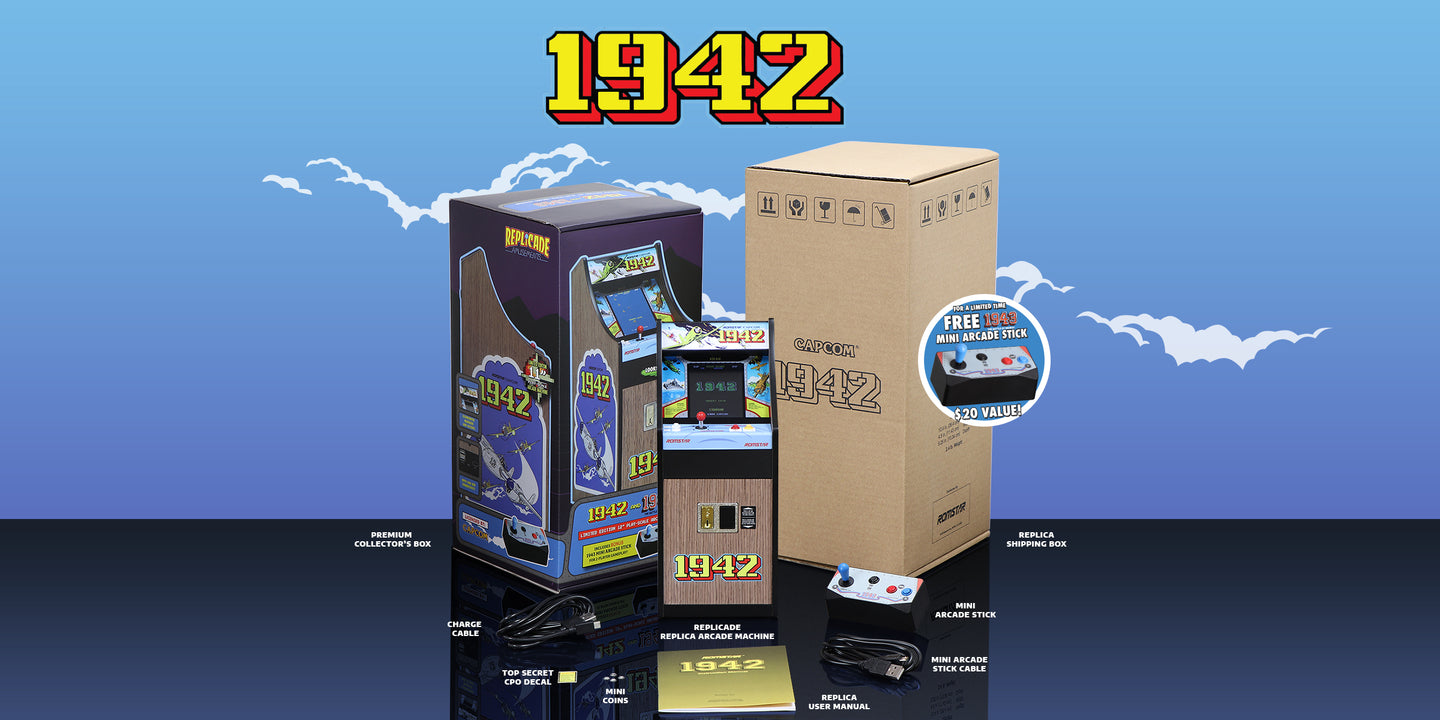 1942 x RepliCade
UPC: 850009712011
LOOKS, PLAYS AND CONTROLS like Capcom's classic 1942 Lowboy Arcade Machine!
*Free 1943 Arcade Stick offer good while supplies last!
Regular price $149.99 Sale price Price $89.99
Shipping Info
THIS PRODUCT ONLY SHIPS TO UNITED STATES AND CANADA
Limited Edition – All Sold Out!
Features
Replica 1942 ROMSTAR/Capcom Lowboy Arcade Machine in 1/6th Scale (11 inches tall)
Plays the original 1942 and 1943: The Battle of Midway arcade games
Arcade Operator's menu featuring customizable dip switches and cabinet settings
Miniaturized Control Panel featuring Mini Joystick and arcade buttons 
Includes bonus 1943 Mini Arcade Stick for two-player gameplay. Also works with some USB-compatible modern console controllers
Plug and Play HDTV connectivity
Authentic wood cabinet construction
Illuminated Marquee
Diecast metal Japanese-style coin slot
Signature amplified multi-speaker audio reproduction with volume control
High-resolution cabinet art reproduction on quality 3M vinyl overlays
High score saving with non-volatile memory
Built-in high-capacity rechargeable battery
Premium LCD color screen 3:4 aspect ratio (vertical orientation)
Officially licensed by Capcom
Limited Edition
100-Day New Wave Factory Warranty

Included with purchase
(1) 1943 Mini Arcade Stick
(1) "Top Secret" Sticker
(1) Replica 1942 Operator's Manual
(2) Micro USB Charge Cables
(4) Mini Metal Arcade Tokens
1942 X REPLICADE
New Wave™ is proud to present our next addition to the RepliCade family, 1942 x RepliCade! 1942 x RepliCade is a 1/6th scale replica of the ROMSTAR/Capcom 1942 Lowboy arcade machine. This classic Lowboy cabinet features two fully playable, classic arcade games designed by Yoshiki Okamoto: 1942 and 1943: The Battle of Midway. 1942 x RepliCade also features a Japanese-style diecast metal coin mechanism, customizable dipswitch and cabinet settings, HDTV connectivity and a bonus 1943 Mini Arcade Stick for simultaneous two-player gameplay! 1942 x RepliCade is officially licensed by Capcom.
SIZED FOR COLLECTORS
Our 1942 x RepliCade Lowboy cabinet measures 10.4"H x 4.5"W x 5.25"D and weighs 2.4 lbs. This 1/6th scale machine matches your 12-inch collectible figures and fits perfectly on your bookshelf, bar or desk. 
PREMIUM CONSTRUCTION MATERIALS
Every detail in these amazing works of arcade art has been painstakingly reproduced, including the wood cabinet, illuminated marquee & cabinet accents, diecast metal Japanese-style coin slot, and professionally reproduced cabinet art printed on high quality 3M vinyl overlays.
AUTHENTIC GAMEPLAY
1942 x RepliCade plays just like the arcade classic with PlayScale Control Panel featuring an arcade accurate Mini Joystick and action buttons. The cab also features premium LCD color screen in 3:4 vertical aspect ratio and our signature amplified multi-speaker audio reproduction with volume control for an authentic arcade experience. The Arcade Operator Dip Switch menu allows you to set number of Starting Lives, set Bonus Life score, and set Game Difficulty.
OFFICIALLY LICENSED BY CAPCOM
1942 x RepliCade is officially licensed by Capcom featuring the original cabinet artwork and both 1942 and 1943: Battle of Midway arcade ROMs.
Frequently Asked Questions
Our licensing contract does not allow us to ship to territories other than the US and Canada.
Each game has difficulty dip switches so put the game on easy and finally beat it!

Different from our other RepliCade machines, 1942 x RepliCade does not have a light up coin door, as the original Lowboy cabinet did not have a light up coin door!
No, it's not crashed! Attract mode only plays when there are no credits available to play. Just like in the arcade, the machine will wait on the Insert Coin screen until you add another credit by pushing Coin Door button. 

Some TVs have a small portion of the game cut off at the top and bottom of the TV. In this case, please go to into the display settings of your TV and change the Picture Size to "Fit" in order to get the correct aspect ratio!
Yes, 1942 x RepliCade can be played with 2 external controllers in the two built in USB ports. Besides using the included 1943 Mini Arcade Stick, 1942 x RepliCade is compatible with some modern controllers, including PS4 and Xbox One!
Yes! This product is officially licensed by Capcom, and we are using the original 1942 and 1943: The Battle of Midway ROMs!
Never fear! RepliCade machines are built to withstand competitive play. The machine weighs in at about 2.5 lbs, and has protective, non-slip grips on the bottom to help ensure stability during gameplay.
1942 x RepliCade runs on a rechargeable lithium-ion battery pack that can run up to 5 hours before needing to be recharged. Note: as a shipping safety precaution, RepliCade machines will arrive to you with the battery discharged.
RepliCade machines run on a custom hardware solution. Every machine is a closed system that is not intended to be modified by the end user. RepliCade machines boot directly into the original game rom. We do include a modern menu system to allow control of the hardware's and software's features.
Our 1942 cabinet features a signature amplified multi-speaker audio reproduction with volume control recreating that arcade ambience you remember from back in the day.
Yes, the screen brightness can be changed in the options menu. You are also able to turn the marquee light on and off, as well as many other features.
We spent countless hours of gameplay dialing-in the joystick and buttons to get it smooth, consistent, and as close to the original as possible in 1:6 scale. We are particularly proud of how accurate the joystick is and how authentic the buttons feel!
The enthusiastic reception our RepliCade machines have had in the retrogaming community has made for a steady stream of suggestions for machines – and we love that! Feel free to let us know what you'd like to see next to info@newwavetoys.com