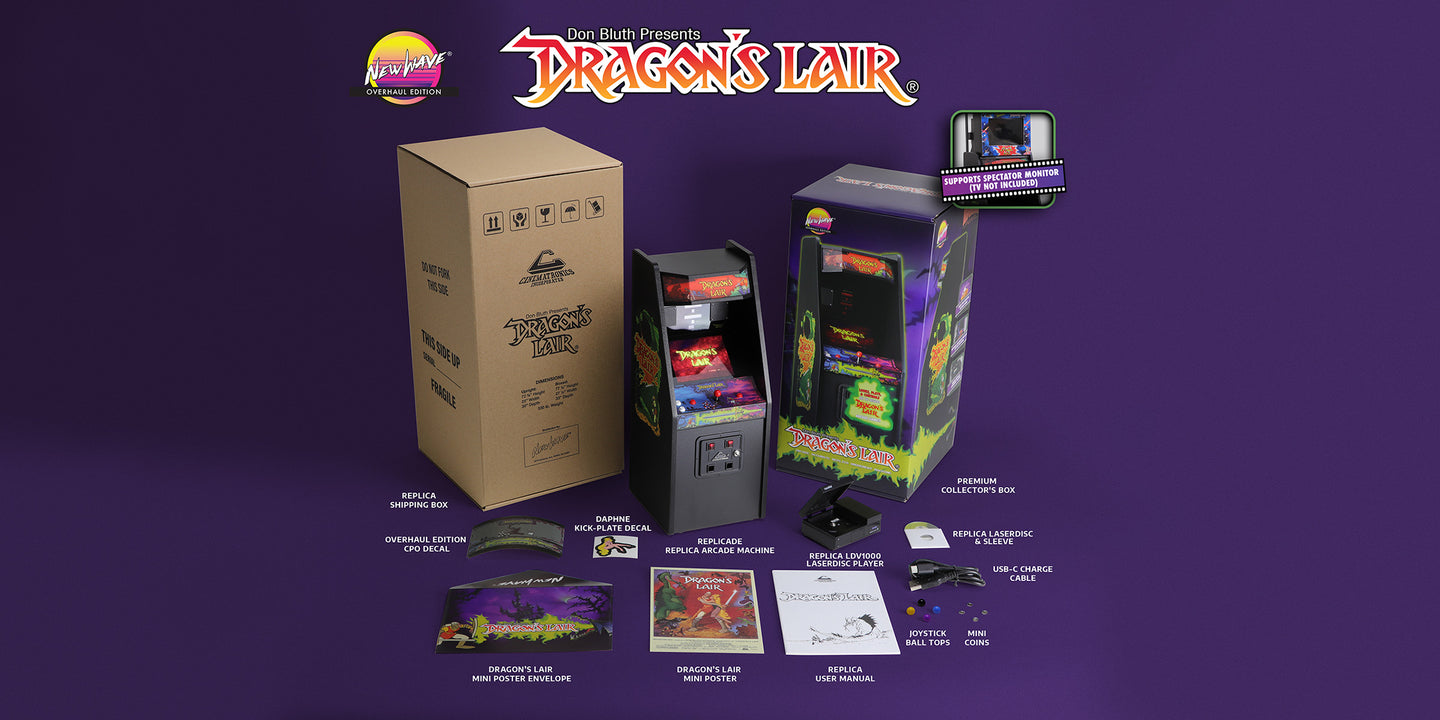 Dragon's Lair x RepliCade Overhaul Black Edition
UPC: 850009712509
Introducing the variant you have been waiting for: New Wave's Dragon's Lair Overhaul Black Edition. We've redesigned our original 1/6th scale Dragon's Lair x RepliCade with exclusive features and updates! 
Regular price Sale price Price $169.99
Shipping Info
DUE TO HIGH DEMAND, PLEASE ALLOW 3-5 BUSINESS DAYS TO RECEIVE SHIPPING NOTIFICATION. 
All orders shipping to non-US or Canadian addresses DO NOT include local taxes, import duties, or brokerage fees that may be charged by carriers. If applicable, you will be required to pay these at time of local delivery. Be aware that non-US orders may ship from our overseas warehouse. 
Canadian UPS ship DDP duties paid and includes Customs brokerage fee.
Limited Edition – All Sold Out!
Features
Plays the original 1983 Dragon's Lair LaserDisc arcade game running on Daphne emulator
HDTV Connectivity with all new screen mirroring
Cinematronics raised letter metal coin door with storage compartment
Individual serial number labels with Cinematronics branding
Black T-molding
Fully functional digital scoreboard displaying players' scores, lives, and credits
Traditional 4:3 Aspect Ratio on a gorgeous 4.2-inch screen
Arcade Operator's Menu featuring dip switch settings and cabinet controls
Miniaturized 1/6 scale control panel featuring authentic ball-top joystick and action buttons
Cabinet constructed from premium materials: wood, metal, and plastic
Illuminated marquee and LED cabinet accents
Signature amplified multi-speaker audio reproduction with volume control
High-resolution cabinet art reproduction on quality 3M vinyl overlays
Built-in lithium-ion rechargeable battery
USB Controller Support 
LDV1000 Mini LaserDisc player replica prop with rear cab storage drawer
Officially licensed by Digital Leisure and Dragon's Lair LLC
100 Day New Wave Factory Warranty
Included with purchase
Prop replica mini LDV1000 Mini LaserDisc Player
Prop replica mini Dragon's Lair Mini LaserDisc & Sleeve
Dragon's Lair One Sheet Mini Poster
USB-C Charge Cable
Replica Operator's Manual
4x Custom Color Ball Tops 
1x Vintage battle worn CPO
1x Daphne kick plate decal
4x Mini Tokens
ABOUT DRAGON'S LAIR OVERHAUL BLACK EDITION
Dragon's Lair Overhaul Black Edition is a redesign of our original 1/6th scale Dragon's Lair x RepliCade with exclusive features and updates including: a more powerful processor to enable HDTV screen mirroring, individually numbered Cinematronics cabinet branding, Cinematronics raised letter metal coin door, black t-molding, mini prop replica of the commercial grade LDV1000 LaserDisc player used in Gen 2+ production runs of Dragon's Lair, special Cinematronics packaging, plus a bonus Dragon's Lair one sheet mini poster. Officially licensed by Digital Leisure and Dragon's Lair LLC.

SIZED FOR COLLECTORS
Dragon's Lair Overhaul Black Edition has been designed in perfect one-sixth PlayScale to match your collectible figures, and fit perfectly on your bookshelf, bar, or desk.
PREMIUM CONSTRUCTION MATERIALS
Every detail in our Dragon's Lair Overhaul Black Edition machine has been painstakingly reproduced, including the wooden cabinet in perfect profile, control panel with reproduced PlayScale controls, illuminated marquee and cabinet accents, diecast metal coin door with a secret stash box, and professionally reproduced cabinet artwork.
We've even gone the extra mile and reproduced the 2nd Generation LaserDisc Player in 1/6th scale and included a miniature LaserDisc complete with paper sleeve! 
PLAYSCALE CONTROLS
Our custom-made controllers blend modern technology with classic control schemes to recreate arcade-accurate functionality at sixth scale size. PlayScale provides a truly satisfying gameplay experience in a collectible size.
AUTHENTIC GAMEPLAY
Dragon's Lair Overhaul Black Edition is fully playable with Playscale Joystick and arcade buttons which runs the original arcade ROM to provide an authentic arcade gaming experience.
OFFICIALLY LICENSED BY DIGITAL LEISURE
Dragon's Lair Cinematronics Edition is officially licensed by Digital Leisure and features the original cabinet artwork and arcade ROM from the arcade classic Dragon's Lair!