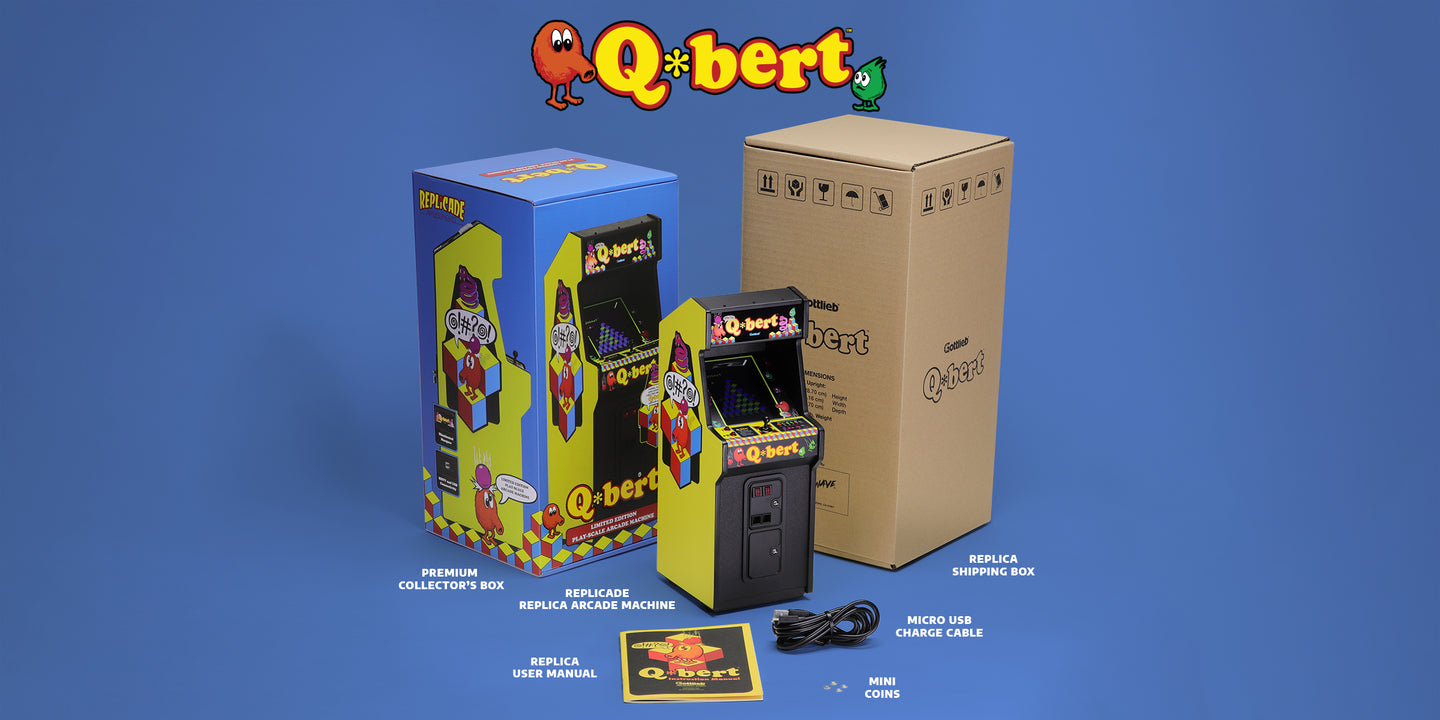 Q*bert x RepliCade
UPC: 850009712097
LOOKS, PLAYS AND CONTROLS like the original Q*bert Arcade Machine!
Regular price Sale price Price $159.99
Shipping Info
Please note: All orders shipping to non-US addresses DO NOT include local taxes, import duties, or brokerage fees that may be charged by carriers. If applicable, you will be required to pay these at time of local delivery. Be aware that non-US orders may ship from our overseas warehouse. 

Limited Edition – All Sold Out!
Features
Replica Q*bert arcade machine in 1/6th scale
Plays the original Q*bert arcade ROMs and Warren Davis's previously unreleased sequel Faster Harder More Challenging Q*bert
Fully functional Knocker Coil
Arcade Operator's menu with customizable dip switch and operational test mode
Miniaturized control panel featuring reproduction ball-top joystick and buttons
Plug and Play HDTV connectivity
Cabinet constructed from traditional materials including wood, metal, and plastic
Illuminated marquee and cabinet accents
RepliCade signature amplified mono audio reproduction with volume control
High-resolution cabinet art reproduction on quality 3M vinyl overlays
Diecast metal coin doors with storage compartments
High score saving with non-volatile memory
Built-in, high-capacity rechargeable battery
Premium LCD color screen 4:3 aspect ratio (vertical orientation)

Officially licensed Gottlieb branding

100-Day New Wave Factory Warranty

Included with purchase
One (1) Q*bert Arcade Machine
One (1) Replica Q*bert Operator's Manual
One (1) Micro USB Charge Cable
Four (4) Mini Metal Arcade Tokens
Q*BERT X REPLICADE
Q*bert x RepliCade is a fully playable 1/6th scale replica of the original Q*bert arcade machine presented by New Wave™! Q*bert was released in 1982 by Gottlieb and was the first game designed by legendary developer Warren Davis. Q*bert x RepliCade runs the original arcade ROMs of both Q*bert and the previously unreleased sequel Faster Harder More Challenging Q*bert!
SIZED FOR COLLECTORS
Our Q*bert x RepliCade cabinet measures 11.3"H x 4"W x 5"D and weighs 2.4 lbs. This 1/6th scale machine matches your 12-inch collectible figures and fits perfectly on your bookshelf, bar or desk. 
PREMIUM CONSTRUCTION MATERIALS
Every detail in these amazing works of arcade art has been painstakingly reproduced, including the wood cabinet, illuminated marquee & cabinet accents, diecast metal coin door, and professionally reproduced cabinet art printed on high quality 3M vinyl overlays.
AUTHENTIC GAMEPLAY
Q*bert features a fully functional Knocker Coil, fully customizable dipswitch settings, and premium construction materials including wood, metal, and plastics. Also features HDTV connectivity and external USB controller support so you can sit back and play on the big screen.
Gottlieb brand under license from Gottlieb Development, LLC.