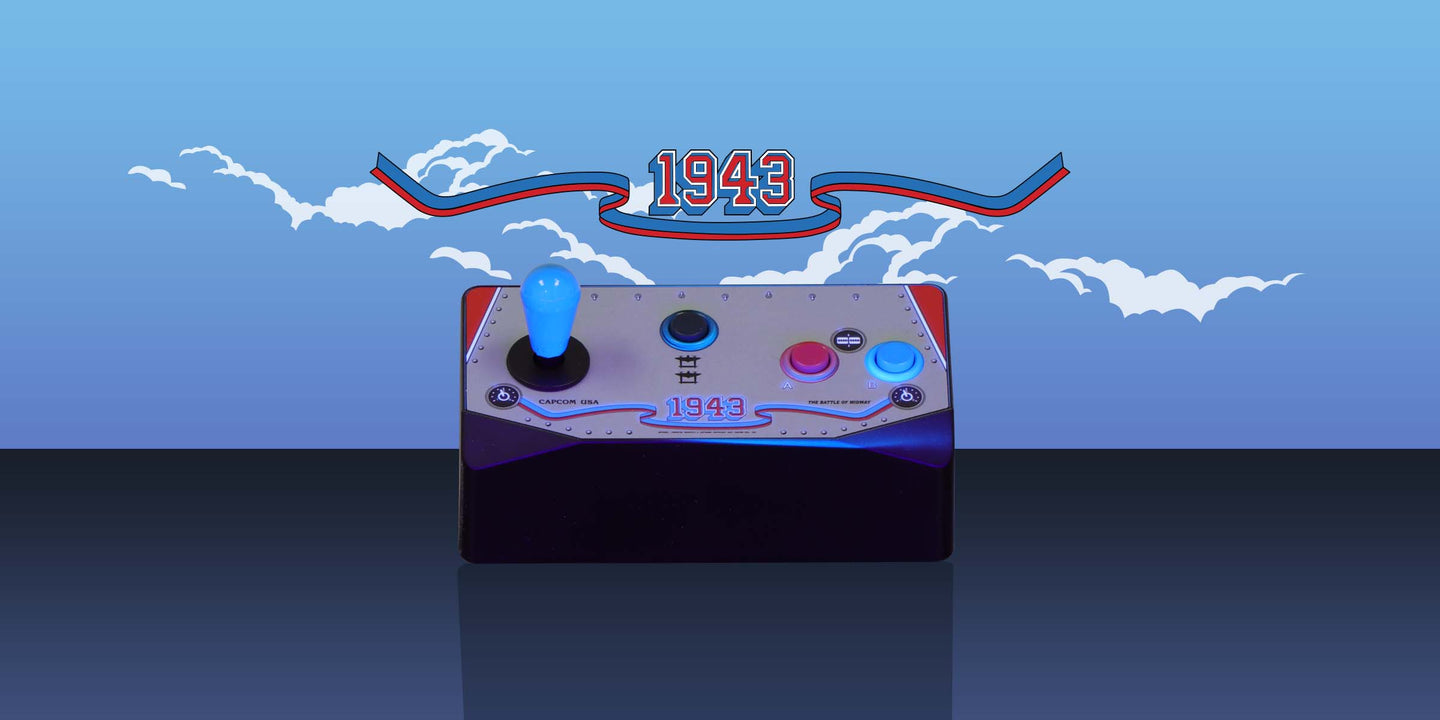 1943 Mini Arcade Stick
UPC: 850009712165
Limited Edition 1943 Mini Arcade Sticks available only while supplies last.
Regular price Sale price Price $19.99
Shipping Info
PLEASE NOTE: THIS PRODUCT ONLY SHIPS TO UNITED STATES AND CANADA.
Limited Quantity. Buy Now!
Features
Miniaturized arcade stick featuring microswitch bat-top joystick and microswitch action buttons

NEW! Coin-door buttons to add credits and access menu

High-resolution art printed with UV reactive ink

Limited edition New Wave exclusive

Officially licensed by Capcom
About the 1943 Mini Arcade Stick
The 1943 Mini Arcade Stick is a great way to play 1942 or 1943 authentically at 1/6th scale. The USB Mini Arcade Stick sits at a little more than an inch tall and 3 inches wide, weighing a little over 3 ounces. Grab an extra 1943 Mini Arcade Stick to hand to your buddy for two player action!
PlayScale Controls

Our custom-made controllers blend modern technology with classic control schemes to recreate arcade-accurate functionality at sixth scale size. 1943 Mini Arcade Stick has a bat-top microswitch joystick and real microswitch buttons. These controls provide an authentic arcade gaming experience while playing original arcade ROMs.
Frequently Asked Questions
These control the coin door options. The left button will add a credit (same as pressing the left coin door), while the right button will access the menu options (same as pressing the right coin door.)
This allows both players to have a 1943 Mini Arcade Stick, so no one can blame their loss on being on a different controller! Busted!