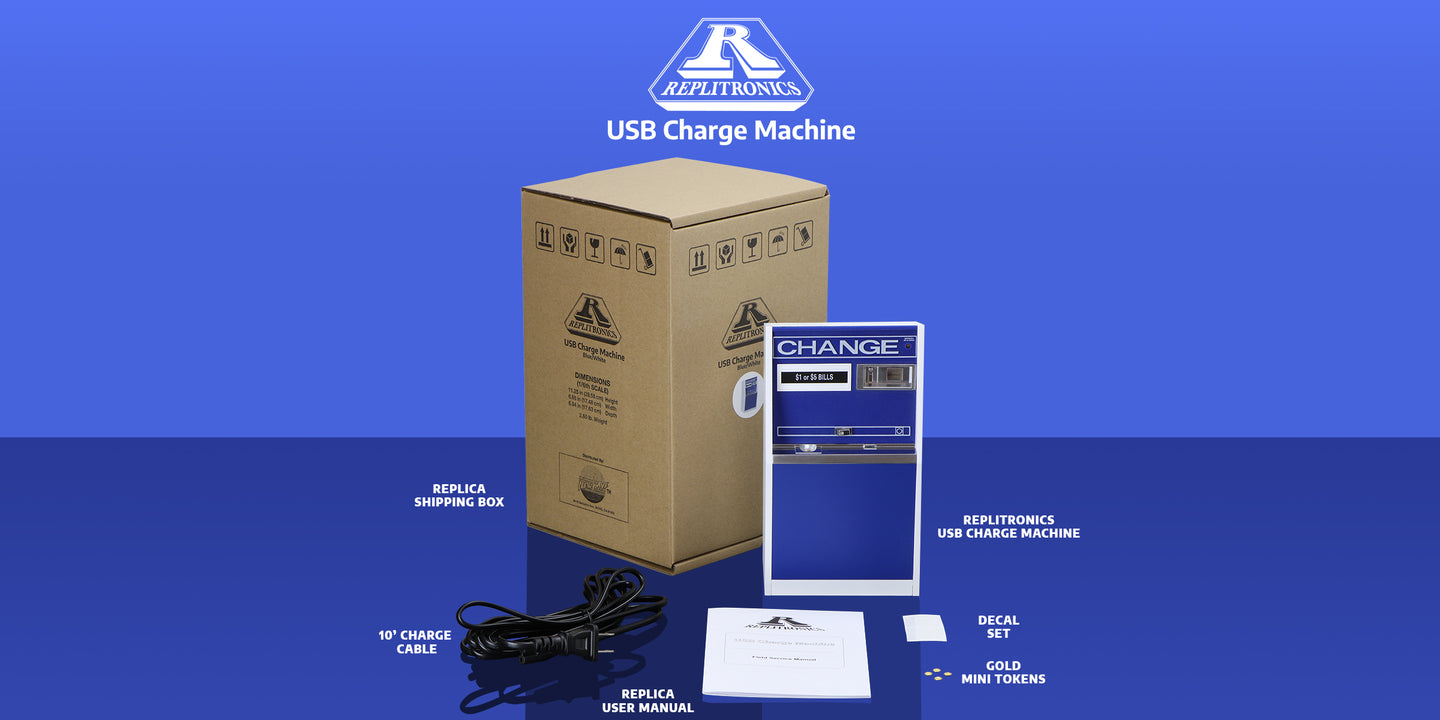 USB Charge Machine - Blue/White
UPC: 850009712240
Charge all your USB devices with RepliCade style! Now in Blue!
Regular price Sale price Price $69.99
Shipping Info
Please note: All orders shipping to Canada, EU, UK DO NOT include local taxes or import duties. If applicable, you will be required to pay these at time of local delivery.
Limited Edition – All Sold Out!
Included with purchase
Extra-long 10' AC power cable
Golden mini tokens
Optional mini stickers
Operators Manual
The USB Charge Machine - Blue/White is a fully functional, USB charging station built into a miniaturized, iconic arcade Change Machine replica. Designed with fine sixth-scale details and packed with modern tech, our Charge Machine measures 8.5 inches tall - the perfect size for your RepliCade collection, home, or office. The USB Charge Machine features 5x USB 2.0 ports + 1x USB 3.0 quick-charge port allowing it to power 6x USB compatible devices at once!
FEATURES:
Accurately reproduced iconic arcade Change Machine replica in sixth scale
Charge up to six devices at the same time (1x USB 3.0 + 5x USB 2.0)
Premium mixed-media cabinet appointments: wood, metal, plastic. & rubber
Temporarily Out of Service LED indicator with OFF/ON button
Lab tested & UL certified
Advanced safety features
SPECIFICATIONS:
Input: AC 100-240V,50/60Hz, 1.5A
Output: USBA1-5 Single port 2.1A Total 8.4A
USBA6:DC5/9/12V, 18W
Total: 60W
Safety features:
Surge protection
Over/Even charging protection
Overheating protection
Short Circuit protection
Lab tested & UL certified