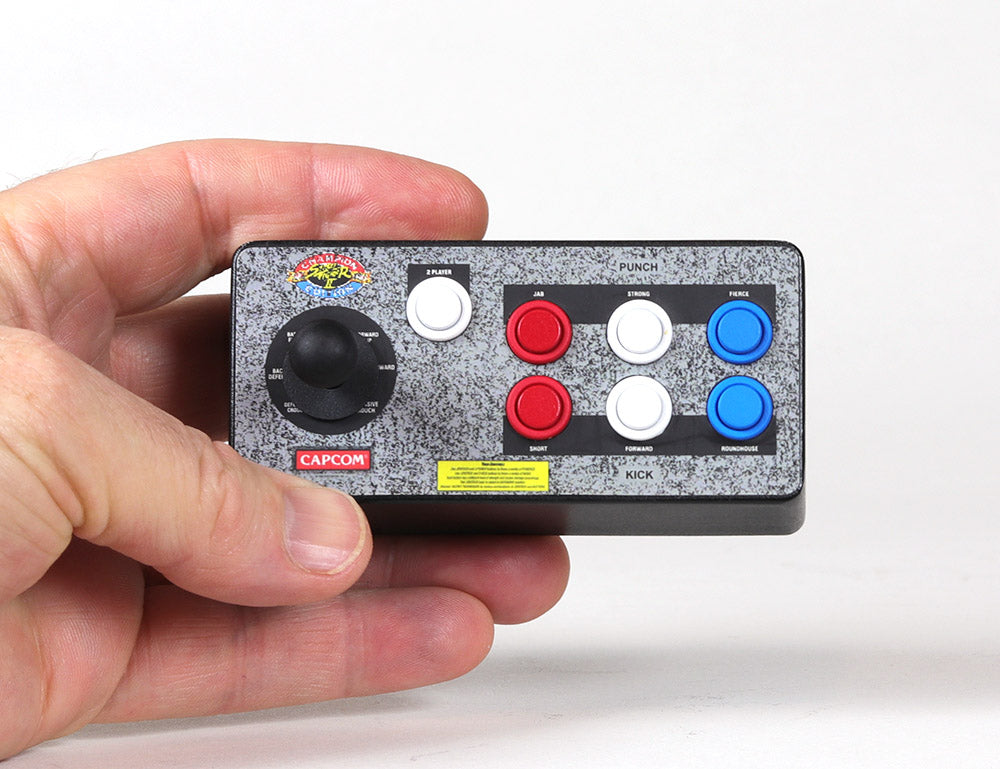 Street Fighter II Mini Fight Stick
UPC: 850009712059
Pick up a second USB Mini Fight Stick for your Street Fighter II x RepliCade!
Our Street Fighter II x RepliCade cabinet ships with one mini fight stick. Add a second one here for your frenemy! 
Regular price Sale price Price $19.99
Shipping Info
PLEASE NOTE: THIS PRODUCT DOES NOT SHIP TO JAPAN OR THE REST OF ASIA
Limited Quantity. Buy Now!
Features
Miniaturized fight stick featuring classic bat-top, microswitch joystick and microswitch action buttons
High-resolution original art reproduction
Includes micro-USB cable
Limited edition only available from NewWaveToys.com
Officially licensed by Capcom
About the Street Fighter II Mini Fight Stick
The Street Fighter II Mini Fight Stick is a great way to play Street Fighter authentically at 1/6th scale. The USB Mini Fight Stick sits at a little more than an inch tall and 3 inches wide, weighing a little over 3 ounces. Grab an extra Street Fighter II Mini Fight Stick to hand to your buddy for two player Mini Fight Stick action!
PLAYSCALE CONTROLS
Our custom-made controllers blend modern technology with classic control schemes to recreate arcade-accurate functionality at sixth scale size. Street Fighter II Mini Fight Stick has a bat-top microswitch joystick and real microswitch buttons. These controls provide an authentic arcade gaming experience while playing original arcade ROMs.
Frequently Asked Questions
This allows both players to have a Mini Fight Stick, so no one can blame their loss on being on a different controller! Busted!