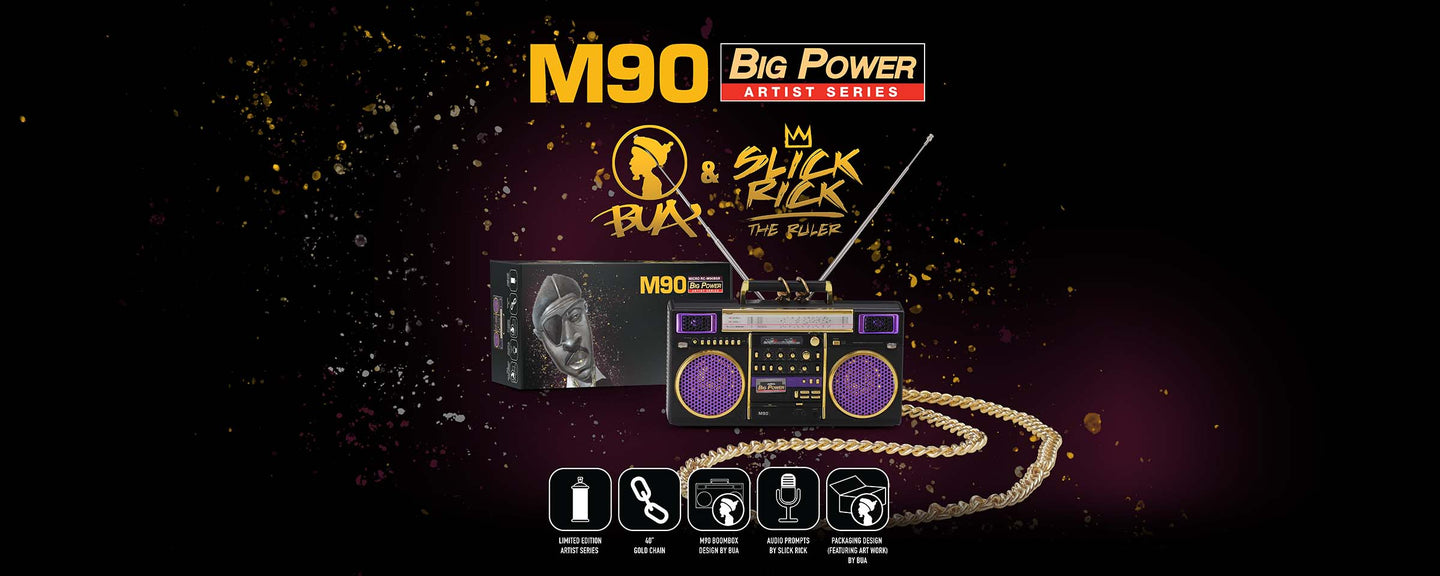 M90 MICRO Blaster Artist Series BUA & Slick Rick
UPC: 850009712172
The M90 MICRO Blaster Artist Series BUA & Slick Rick offer more than striking re-skins. Look past the exclusive purple and accents and Slick Rick voice prompts, and you'll find fun details including the MICRO's 40Inch gold chain to turn the MICRO into a wearable speaker. 

Regular price Sale price Price $79.99
Shipping Info
Please note: All orders shipping to non-US addresses DO NOT include local taxes, import duties, or brokerage fees that may be charged by carriers. If applicable, you will be required to pay these at time of local delivery. Be aware that non-US orders may ship from our overseas warehouse.
Limited Quantity. Buy Now!
Features
Accurately reproduced 1:6th scale replica of the "King of Boomboxes" that measures:
Length: 4.375" x Width: 1.25" x Height: 2.375"
Bluetooth wireless connectivity
Dual micro speakers deliver 6 watts of Big Power
Articulated handle
Telescoping prop antennas
Volume Control Dial
Rechargeable 850 mAh battery provides up to 20 hours of playtime
Lab tested & certified


100 Day New Wave Factory Warranty
Special Features
Limited Edition of 1,500
Chain 40inch (gold color)
Boombox Design By BUA
Audio Prompts by Slick Rick
Packaging Design featuring art work by BUA
Included with purchase
1x M90 MICRO BLASTER Artist Series BUA & Slick Rick
1x 40" Gold Color Chain
1x Micro USB Charge Cable
1x Replica Service Manual
1x Premium Packaging Featuring Art Work by BUA


Big Power® is a collection of faithfully recreated iconic 1980's boomboxes at a fraction of the size and cost of original vintage boomboxes. Big Power blasters merge legendary boombox design with modern technology and are packed with traditional and contemporary features and accessories.
The undisputed "King of Boomboxes" miniaturized replicas are now available in two sizes – the M90 MINI BLASTER and M90 MICRO BLASTER.

NEW WAVE is proud to present the M90 MICRO BLASTER, an accurately reproduced 1:6th scale replica of the "King of Boomboxes" that fits perfectly with our RepliCade line of miniaturized arcade machines. Designed to fill your personal space with full and balanced sound at lower volumes without disturbing your neighbors. This fully functional Bluetooth speaker features telescoping antennas, an articulated handle, volume control dial and enough power for up to 20 hours of playtime.
Frequently Asked Questions
The M90 MICRO battery takes approximately 3-4 hrs to fully charge. The LED will turn green once fully charged.
The only independent feature control on the M90 MICRO is the volume knob.
No, only the M90 MINI blasters can be paired together for Immersive Stereo Sound.
No, there is no FM radio feature on the M90 MICRO, and the antennas are just for looks.
No, the M90 MICRO only connects to your device via Bluetooth.
That is the low battery indicator sound, meaning it's almost time to recharge your M90 MICRO.