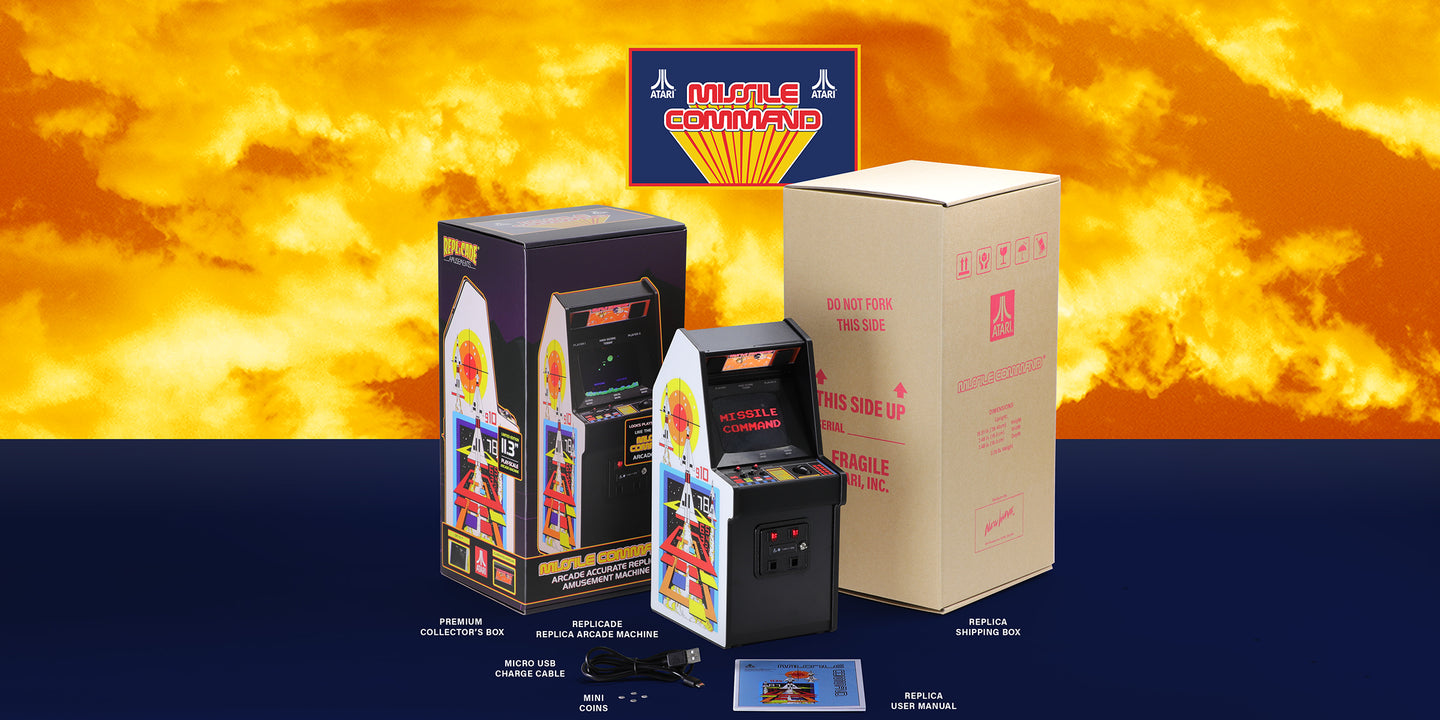 Missile Command x RepliCade
UPC: 850009712028
LOOKS, PLAYS AND CONTROLS like Atari's classic Missile Command Arcade Machine! 
Regular price Sale price Price $159.99
Shipping Info
Please note: All orders shipping to non-US addresses DO NOT include local taxes, import duties, or brokerage fees that may be charged by carriers. If applicable, you will be required to pay these at time of local delivery. Be aware that non-US orders may ship from our overseas warehouse.
Limited Edition – All Sold Out!
Features
Replica Missile Command cabinet in 1/6th scale 11-5/8 inches tall
Trak-Ball XL™ free spinning, extra-large Trak-Ball that provides sooth & accurate control
CRT FX™ convex, transparent lens that transforms LCD screen to look-like a CRT Television screen
Plays the original arcade Missile Command ROM
Arcade Operator's menu with customizable dip switch and cabinet settings
Cabinet constructed from premium materials: MDF wood, diecast metal, and plastic
Illuminated marquee and cabinet accents
RepliCade signature amplified mono audio reproduction with volume control
High-resolution cabinet art reproduction on quality 3M vinyl overlays
Diecast metal coin door with storage compartments
High score saving with non-volatile memory
Built-in, high-capacity rechargeable battery
Premium LCD color screen 4:3 aspect ratio (horizontal orientation)
Officially licensed by Atari
100-Day New Wave Factory Warranty
Included with purchase
(1) Missile Command x RepliCade
(1) Replica Missile Command Operator's Manual
(1) Micro USB Charge Cable
(4) Mini Metal Arcade Tokens
Missile Command x RepliCade
New Wave™ is proud to present our next addition to the RepliCade family, Missile Command x RepliCade! Missile Command x RepliCade is a fully playable 1/6th scale replica of the arcade classic Missile Command & is presented by New Wave™.  Missile Command was originally released by Atari in 1980 and was designed by the legendary programmer Dave Theurer. Missile Command x RepliCade features our new & improved, smooth rolling Trak-Ball XL™, CRT FX™ a convex transparent lens that looks like a CRT Television, fully customizable dipswitch and cabinet settings menu, and runs the original arcade Missile Command ROM. These cabinets are hand crafted with pride using traditional materials including MDF wood, diecast metal, and plastic. Officially licensed by Atari.
SIZED FOR COLLECTORS
Our Missile Command x RepliCade cabinet measures 11.3"H x 4.6"W x 6.3"D and weighs 2.6 lbs. This 1/6th scale machine matches your 12-inch collectible figures and fits perfectly on your bookshelf, bar or desk.
PREMIUM CONSTRUCTION MATERIALS
Every detail in these amazing works of arcade art has been painstakingly reproduced, including the wood cabinet, illuminated marquee & cabinet accents, diecast metal coin slot, and professionally reproduced cabinet art printed on high quality 3M vinyl overlays.
AUTHENTIC GAMEPLAY
Missile Command features a fully functional smooth rolling Trak-Ball XL™ and arcade accurate buttons, fully customizable dipswitch settings, and premium construction materials including wood, metal, and plastics.
OFFICIALLY LICENSED BY ATARI
Missile Command x RepliCade is officially licensed by ATARI featuring the original cabinet artwork and arcade ROM of Missile Command.
Frequently Asked Questions
The battery takes approximately 4-6 hours for a full charge. The LED will turn green once fully charged.
No, this is the effect produced by our new CRT FX lens. We have found best gameplay results occur in a darker setting.
Yes, by pressing the right coin door button you will access the menu, where adjustments to the Trak-Ball setting s can be made.
Only the left and right side coin doors are functional (Left adds credit, Right opens the Menu Settings). The middle coin door is purely cosmetic.