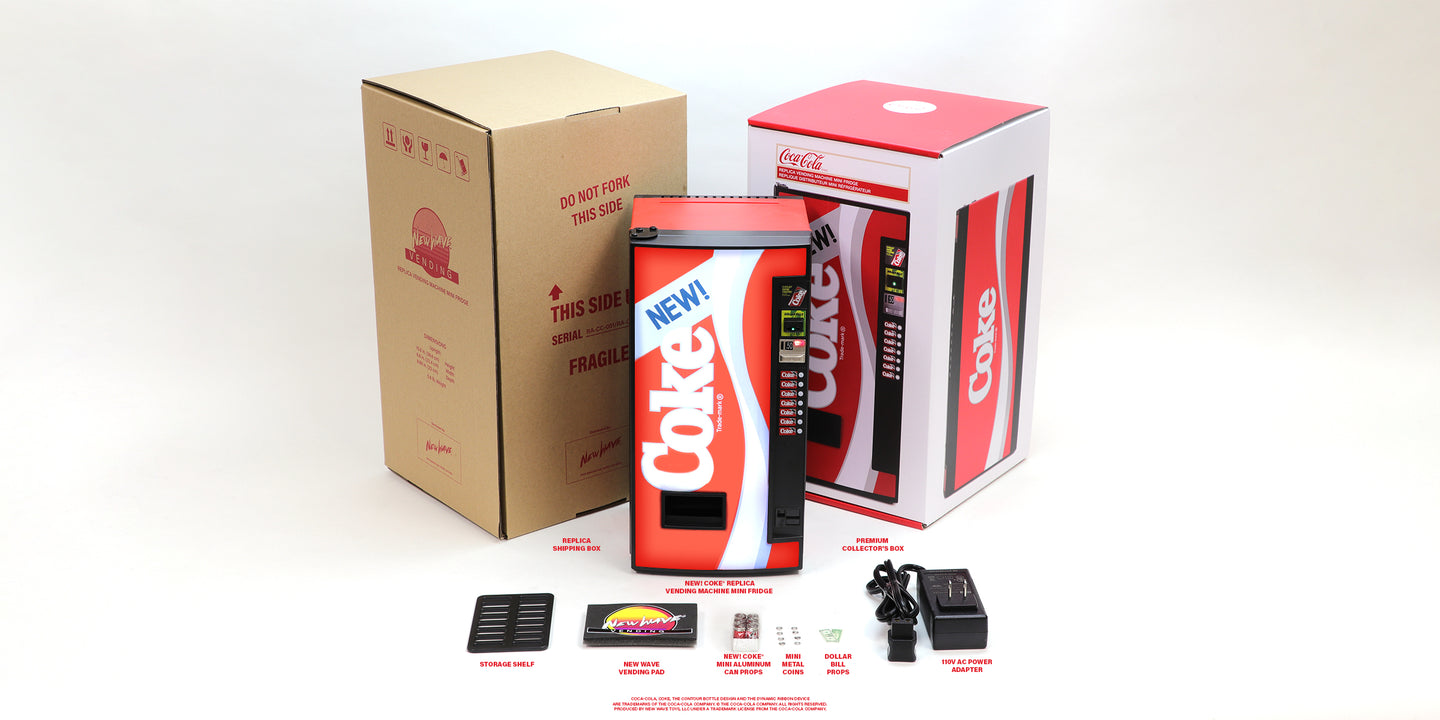 NEW! Coke Replica Vending Machine Mini Fridge
UPC: 850009712363
Bring Home Real Vending Action in 1/6 Scale!
Regular price Sale price Price $159.99
Shipping Info
THIS IS A PREORDER ITEM.
Please note: This product only ships to United States and Canada addresses.
Coming soon. Join our email list to get notified when available!
Features
Replica NEW! Coke vending machine in 1/6 scale (12.3in)
2x 12-ounce Can Capacity Thermoelectric Mini Fridge with shelf
Authentic reproduction, constructed with only quality materials
Magnetically sealed, Illuminated door with integrated prop Mini Can storage and Hopper
Functional mini coin mechanism, credit and drink selection push buttons
Replica dollar accepter (non-functional)
Era correct art and advertising slogan "GREAT NEW TASTE! BETTER THAN EVER."
3-Way Power Switch
110v AC power (UL Certified)
Official Coca-Cola Licensed Product
100-Day New Wave Factory Warranty
Included with purchase
One (1) NEW! Coke® Replica Vending Machine Mini Fridge
One (1) Set of Mini Metal Coins & Dollar Bill props
Six (6)

NEW!

Coke Mini Aluminum Can props
One (1) Vending Machine Operator's Manual
One (1) Storage Shelf
One (1) AC Wall Adapter (UL Certified)
NEW! COKE® REPLICA VENDING MACHINE MINI FRIDGE 

New Wave™ is proud to present our 1/6 scale replica NEW! Coke Vending Machine Mini Fridge! Re-experience authentic 1980s soda vending in your home, office or game room. Insert 2x Mini Coins (or press the Coin Credit Button twice), then press the lighted beverage selection button to dispense a chilled NEW! Coke Mini Can prop! Open the illuminated front door to reveal a thermoelectric-powered mini fridge big enough to fit 2x 12-ounce cans or 1x bottle. Also great for chilling snacks, lunch, or cosmetics.