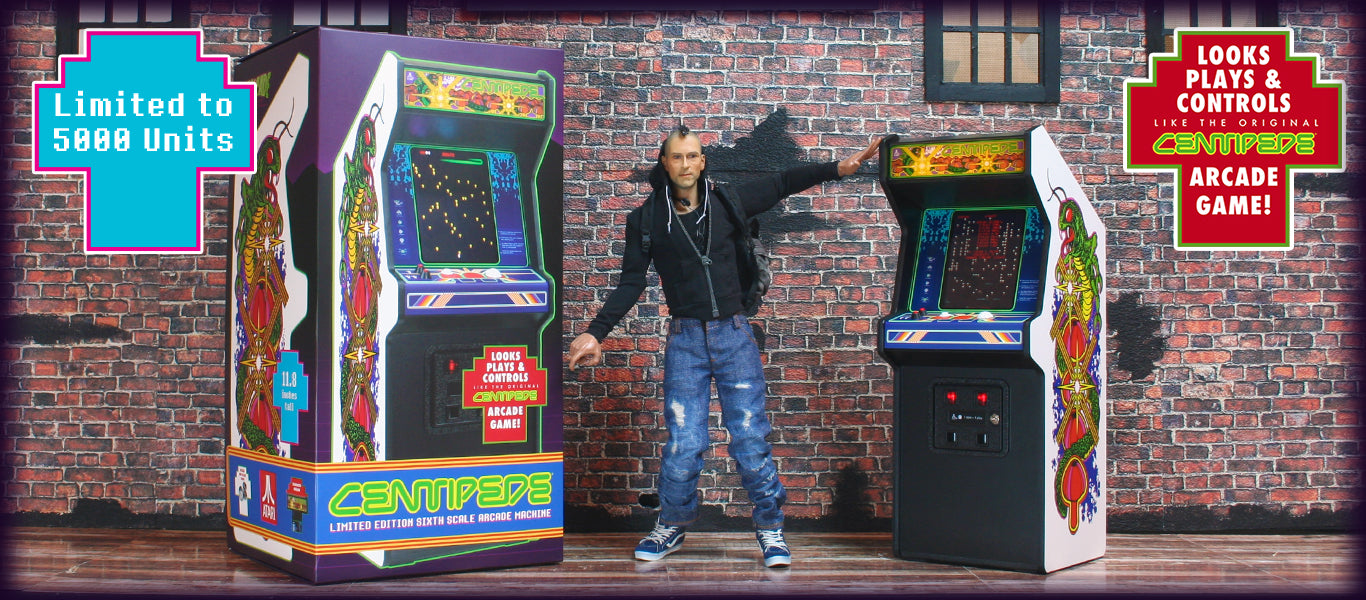 Centipede X Replicade
UPC: 860440001001
Looks, Plays and Controls like the original Centipede Arcade Machine!
Regular price Sale price Price $119.99
Shipping Info
All US orders are charged the USPS Priority rate + handling charge. Please note that all US orders will take 8-10 days from your order date to arrive at the destination. 
International orders are charged a flat rate of $25 USD and are subject to 9-15 day delivery time period.
Limited Edition – All Sold Out!
Features
Plays the original Centipede arcade game  
Playscale Trak-Ball control
Wood cabinet construction
Illuminated marquee & cabinet accents 
Amplified-Mono audio reproduction
Diecast metal coin door with storage compartment
High resolution cabinet art reproduction on quality 3M vinyl overlays
Non-volatile memory saves high scores
Built-in rechargeable battery
3.5" color screen (vertical orientation)
PVC Trim-molding
Limited edition
Officially licensed by Atari 
Included with purchase
Arcade accurate sixth scale replica Centipede arcade machine
Premium retail packaging
Charge cable
ReplICade mini arcade tokens
Owner manual
About Centipede X Replicade
Bring Home 12-inch Playscale Arcade Action! This premium sixth scale arcade cabinet is fully playable using the original control scheme and officially licensed by Atari™. Replicade x Centipede features a custom-made smooth rolling Trak-ball with adjustable sensitivity settings and modern gamepad quality. This is the way Centipede was meant to be played!
Sized For Collectors
Designed to fit in perfectly with your toy/game collection, bookshelves, bar or desk, Centipede x RepliCade has been scaled down from the original cabinet size to just 11.8" tall by 4.5" wide by 5.2" deep.
Premium Construction
Every detail in each Centipede x RepliCade cabinet has been painstakingly reproduced: including the wooden cabinet in perfect profile, control panel with Playscale controls, illuminated marquee and cabinet accents, diecast metal coin door with a secret stash box, and professionally reproduced cabinet artwork by EscapePod.
Playscale Controls
Our custom-made controllers blend modern technology with classic control schemes to recreate arcade-accurate functionality at sixth scale size. Playscale provides a truly satisfying gameplay experience in a collectible size.
Authentic Gameplay
Centipede x RepliCade is fully playable with Playscale Trak-ball and buttons and runs the original arcade ROM to provide an authentic arcade gaming experience.
Officially Licensed By Atari
Centipede x RepliCade is officially licensed by Atari and features the original cabinet artwork and arcade ROM from the classic Centipede upright cabinet.
Frequently Asked Questions
We spent countless hours of gameplay dialing-in the Trak Ball controller to get it smooth, consistent, and as close to the original as possible in 1:6 scale. We included three sensitivity settings (High, Medium, and Low) that allow players to adjust the movement speed to suit their style of play. Overall, we think you will be very pleasantly surprised at the game's playability!
We are particularly proud of the audio reproduction of our RepliCade cabinets. The authentic MDF wood creates a warm resonance that will fill the room and have you closing your eyes and reminiscing about your "misspent yute" in the arcade. The cabinet does feature a control dial to adjust the volume when your wife/husband/kids/boss tells you to "turn that thing down!"
Never fear! RepliCade machines weigh in at just under 3 lbs, and all have protective, non-slip grips on the bottom to help ensure stability during gameplay – and to protect your tabletops when things get tense. Die bugs!
The enthusiastic reception our RepliCade machines have had in the retrogaming community has made for a steady stream of suggestions for machines – and we love that! Feel free to let us know what you'd like to see next to info@newwavetoys.com
Yes, the die cast metal coin door opens to reveal a small stash box inside – not that we have anything to hide!
Yes! This product is officially licensed by Atari with the original arcade ROM.
Yes! Our RepliCade x Centipede machine plays the original arcade ROM complete with the 2-player option. And just like the arcade, you will need to have at least 2 credits available to play 2-player mode.
RepliCade machines run on New Wave's own hardware solution. Every machine is a closed system that is not intended to be modified by the end user. RepliCade machines boot directly into the original game ROM. We do include a modern menu system to allow control of the hardware's features.
RepliCade x Centipede runs on a lithium ion battery pack that can run up to 2.5 hours before needing to be recharged. Note: As a shipping safety precaution, RepliCade machines will arrive to you with the battery discharged.
Yes, the Screen Brightness can be changed in the Options menu. You are also able to turn the Marquee light on and off.