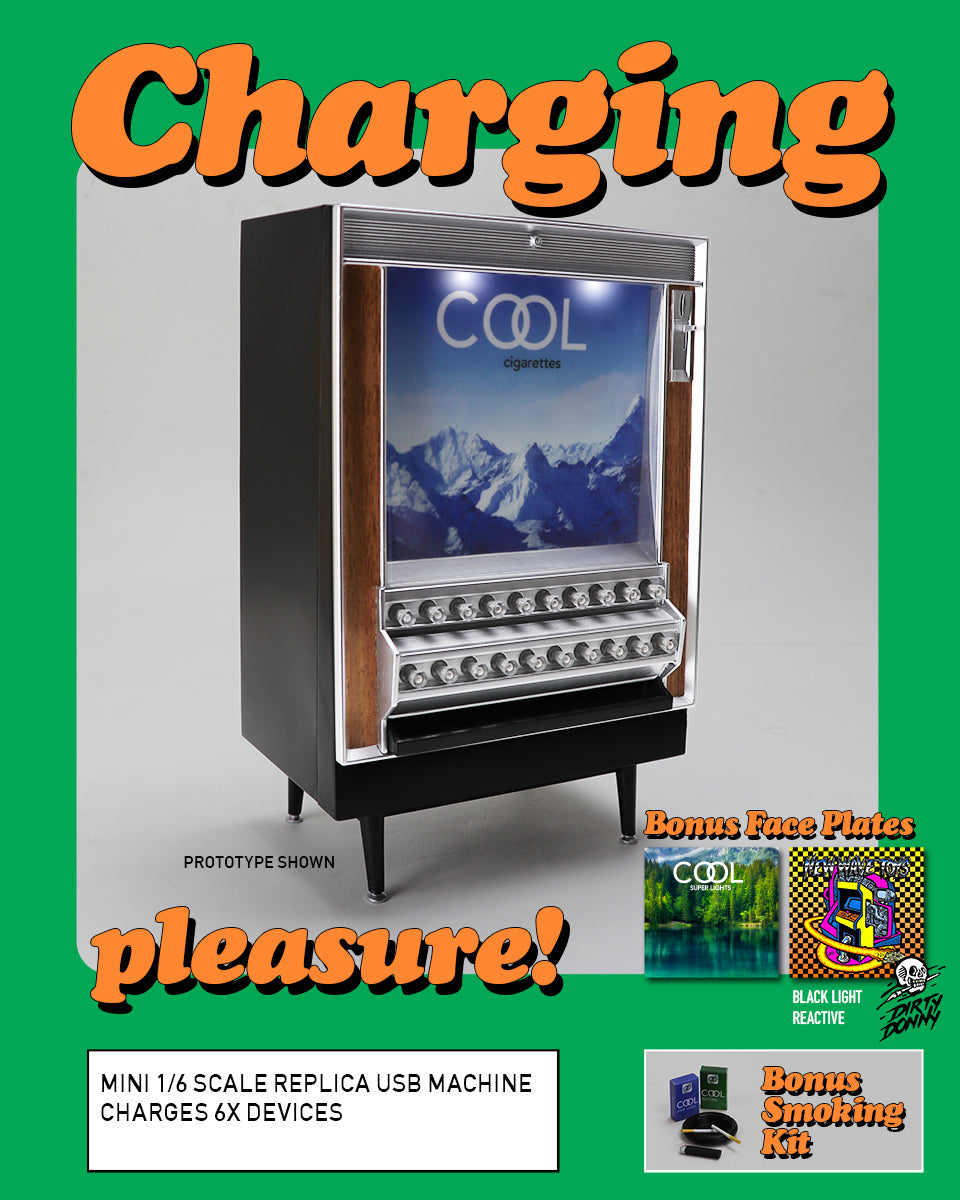 USB CIGARETTE MACHINE
UPC: 850009712974
Charge up to 6x of your USB devices with this Limited-Edition Replica Classic Cigarette Vending Machine in 1/6 Scale.
Regular price Sale price Price $69.99
Shipping Info
Please Note: THIS PRESALE HAS ENDED.
ESTIMATED SHIP DATE IS Q1, 2024.
This preorder item has an intended release date of Q1, 2024. We want to manage expectations due to component supply chain issues, production delays or other unpredictable issues that may arise.
Please note: All orders shipping to Canada, EU, UK DO NOT include local taxes or import duties. If applicable, you will be required to pay these at time of local delivery.
This item will ship separately from any other items ordered at the same time, including other preorder items. Shipping charges will be calculated separately for this item.
Coming soon. Join our email list to get notified when available!
Included with purchase
1x Limited Edition USB Cigarette Machine
2x COOL Cigarettes Face Plates
1x Exclusive Black Light Face Plate by Dirty Donny
2x Cigarettes props
2x Packs of COOL Cigarettes props
1x Lighter prop
1x Ashtray prop
1x AC Cable
1x Manual
New Wave Vending is proud to present this Limited-Edition Classic USB Cigarette Vending Machine!
Featuring a fully functional USB charging station built into a replica vintage National Vendors Series 800 Classic Cigarette Vending Machine. Designed with fine 1/6 scale details and packed with modern tech, measuring Width 5.8" x Height 9" x Depth 4.25" makes this the perfect size for your RepliCade mini arcade collection, home, or office. The USB Cigarette Machine features 2x USB-C & 4x USB-A ports to power 6x USB compatible devices at once!
FEATURES:
1/6 scale replica National Vendors Series 800 Classic Cigarette Vending Machine
Charge up to six devices at the same time (2x USB-C + 4x USB-A)
Premium cabinet constructed from metal, acrylic & plastic
Interchangeable Face Plates
Classic Light Up Mode
Black Light Up Mode
Bonus! Smoking Kit
Lab tested & UL certified
Advanced safety features
SPECIFICATIONS:
Input: AC 100-240V,50/60Hz, 1.5A
Output: USBA1-4 Single port 2.1A Total 20W
TYPE-C 1-2: DC5/9/12V, 40W
Total: 60W
Safety features:
Surge protection
Over/Even charging protection
Overheating protection
Short Circuit protection
Lab tested & UL certified
Frequently Asked Questions
Yes, we supply the correct AC cable/plug for our international orders!