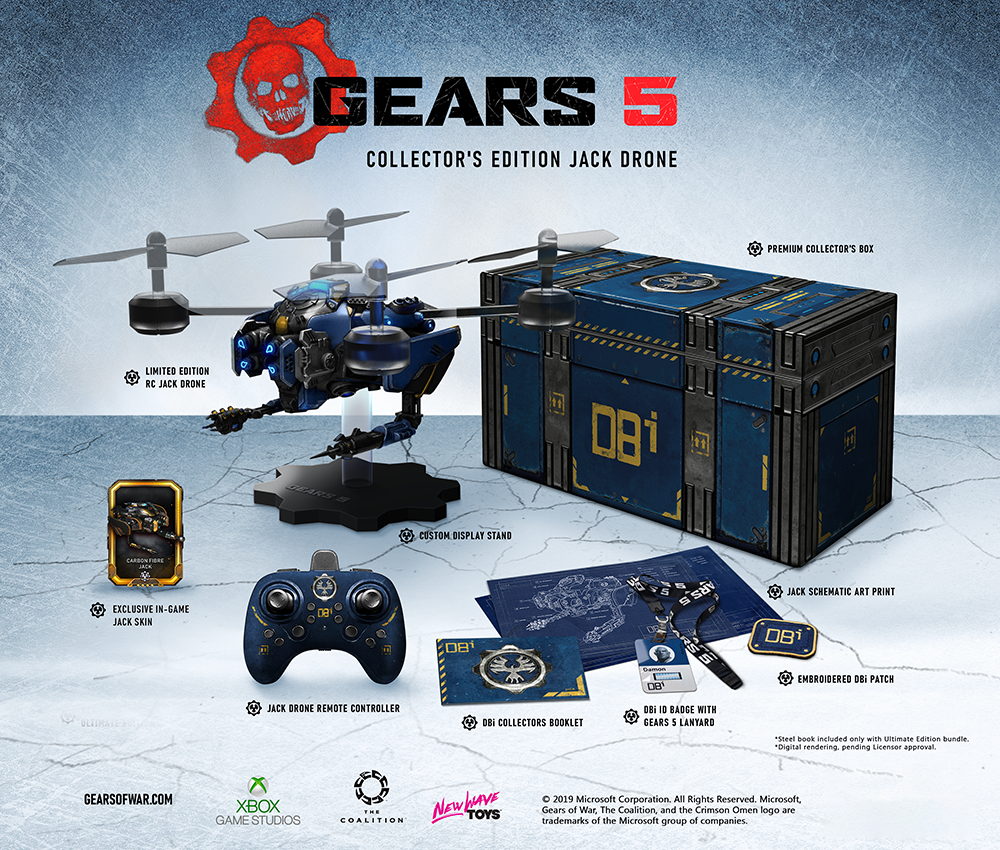 The Gears 5 Collector's Edition, Jack Drone Support Page
Round out your squad with the Gears 5 Collector's Edition Jack Drone. This Collector's Edition comes with a fully functional drone, based on Jack from Gears 5, complete with functioning LED lights. The drone also has a Six Axis Gyroscope Flight System, which makes it perfect for both novice and advanced drone pilots! 
This Collector's Edition, available exclusively at GameStop features curated collectibles from the desk of Damon Baird, and DBi Industries. Featuring a Damon Baird ID Badge with detachable lanyard, DBi Embroidered Patch, original Jack schematic art print, and exclusive DBi Jack booklet, delving into the evolution of Damon Baird Industries, including fan favorite bots of the past and present.
This whole package is all wrapped up in a DBi drone crate Collector's box - a perfect addition to your Gears 5 collection!
*Game disk and steelbook not included.
Note: Non-US customers looking to buy the Jack Drone click here for purchase information.
Video Tutorials
Auto Take-Off and Flying Tips
Controller Basics (Two Sticks)
Frequently Asked Questions
First, download the Jack Drone app on either the iOS or Google Play Store. After that, connect your device to the Jack Drone via Wi-Fi (like connecting to a router). Make sure that Jack is on at this point. The option Jack Drone should show up. Once you do that, turn on the app and it should be paired.
After opening the Jack Drone app (and being connected to Jack), hit PLAY to start. From there, you should be seeing the world from Jack's point of view. You have the option to take photos or videos (you can also do this by pressing or holding the photo button on the controller). You also can check out all the media you have taken, and save it to your phone! NOTE: You cannot control Jack with the Jack Drone App. You must use the included controller.
Make sure that you have tucked the charge cable into the compartment above the battery, and that you press the door button to lock the door. Check out the tutorial video if you have any more problems.
Make sure that you are pairing to JACK DRONE on the Wi-Fi list. Also, pair Jack with the phone app before turning on the controller if you are having any problems.
When starting out, learn to hover by only using the right stick. The right stick will not turn Jack around, allowing you to figure out how to do basic movements before trying the more advanced move.
If a crash is imminent, hit the Stop button. This will immediately cut power, which hopefully will help with keeping Jack safe. Do not hit stop to normally land, use the Auto Landing button instead.
First, make sure Jack hasn't suffered any damage to the propellers. After, reset Jack so that Jack will get rebalanced for the next flight.
Make sure to have the controller right next to Jack when hitting reset, to ensure that Jack gets reset. Jack's eyes should blink and then turn solid if reset correctly.
To do a manual takeoff, you need to hold up on the left stick, let go, and then hold up again. We did this for safety reasons, to make sure you are ready to fly.
Immediately hit reset with the controller next to Jack, to have him go back to regular settings.
Although you will be able to, each Jack is paired to it's original controller, giving that controller the best control overall.
Do not fly Jack without the landing tube, as that helps him land evenly and not put too much weight on his arms.
Please fly Jack in Open Spaces and NOT during any bad weather conditions (snow, rain, high wind). Even if there are medium amounts of wind, we recommend not flying Jack in those conditions.
No, please do not charge Jack with any portable battery packs.
Jack may have a low battery, when Jack has a low battery, he looks for a way to land to make sure that Jack does not fall from a high distance. Jack also has a max distance of 262 feet away, so make sure not to go past that as Jack can be unresponsive past that range.
The indicator light in the charger will turn off when the battery is fully charged.
To change between the Smartphone Holder and Controller Cap on Jack's controller, open the battery panel and hit the button on the top. This will release the Smartphone Holder/Controller Cap on the top and allow you to change them out.
When starting out, use the Auto Take Off and Auto Landing buttons to take off and land. Make sure to gently press each stick, as slamming on them can cause Jack to take off faster than you anticipate. Also if you feel like Jack keeps moving to one side, make sure to reset him with the reset button (also the wind may be too strong). Also when starting out, don't fly Jack too high, as that is a lot farther way to fall if you lose control!