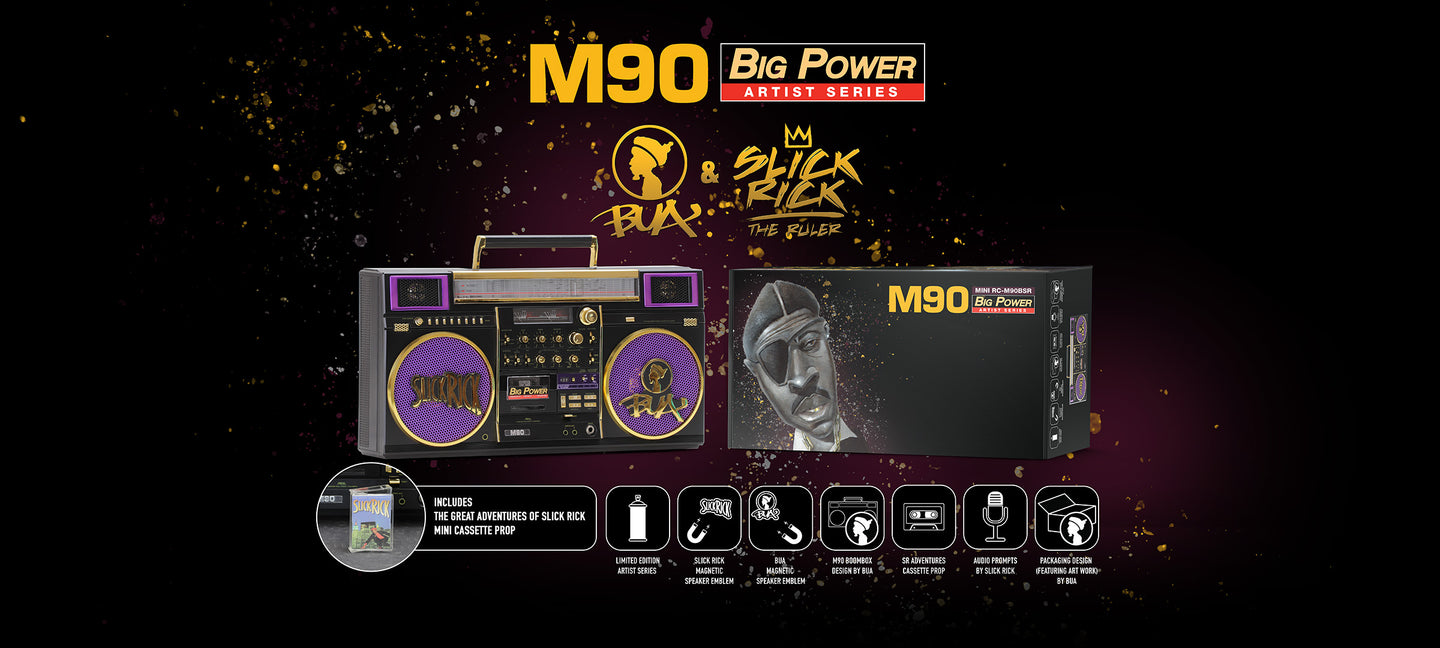 M90 MINI Blaster Artist Series BUA & Slick Rick
UPC: 850009712455
The M90 MINI Blaster Artist Series BUA & Slick Rick offer more than striking re-skins. Look past the exclusive purple and gold accents and Slick Rick voice prompts, and you'll find fun details including the MINI's tiny prop-cassette reproduction of The Great Adventures of Slick Rick. 
Regular price Sale price Price $199.99
Shipping Info
Please note: All orders shipping to non-US addresses DO NOT include local taxes, import duties, or brokerage fees that may be charged by carriers. If applicable, you will be required to pay these at time of local delivery. Be aware that non-US orders may ship from our overseas warehouse.
Limited Quantity. Buy Now!
Features
Accurately reproduced miniaturized replica of the "King of Boomboxes" that measures:
Length: 11" x Width: 3" x Height: 6"
Highly detailed, durable construction using a blend of traditional materials including: metal, high-density rubber and high-grade plastics
Adjustable Treble, Bass, Balance, and Volume knobs
AM/FM Radio Tuner with Dual Telescoping Antennas
Two 3" speakers deliver 30 watts of Big Power
Bluetooth 5.1 featuring maximum wireless range and performance
Built in 20,000 mAh battery provides up to 40 hours of playtime
USB-A port charges most USB-compatible devices
Cassette Door with Eject Button and Smooth Action opening
Smooth & Soft Folding Handle
USB-C Charge Port (M90 MINI recharging only)
Speaker Phone Mode
3.5mm Aux audio input jack
On -board control panel with: Power, Mode, Play/Pause, Forward, and Previous Track
MP3 Playback via MicroSD and USB-A ports
Wireless pairing connects two M90 MINI BLASTERS for Super Stereo Immersion (MINI BLASTER ONLY)

Rear Storage Compartment
Rubber Feet
Lab tested & certified




100 Day New Wave Factory Warranty

Special Features
Limited Edition of 1,500
Set of Magnetic Slick Rick & BUA Speaker Emblems
Boombox Design By BUA
Audio Prompts by Slick Rick
Packaging Design featuring art work by BUA
The Great Adventures of Slick Rick Mini Cassette Prop
Set of Purple Anodized Tuner Caps
Included with purchase
1x M90 MINI BLASTER Artist Series BUA & Slick Rick
1x Mini Wired Remote
4x Purple Tuner Caps

1x The Great Adventures of Slick Rick Mini Cassette Prop

1x USB-C Charge Cable

2x BUA Magnetic Speaker Emblems
1x Slick Rick Magnetic Speaker Emblem
1x USB-C Charge Cable
1x Premium Packaging Featuring Art Work by BUA


Big Power® is a collection of faithfully recreated iconic 1980s boomboxes at a fraction of the size and cost of original vintage boomboxes. Big Power blasters merge legendary boombox design with modern technology and are packed with traditional and contemporary features and accessories.
The undisputed "King of Boomboxes" miniaturized replicas are now available in two sizes – the M90 MINI BLASTER and M90 MICRO BLASTER.

New Wave™ is proud to present the M90 MINI BLASTER, a miniaturized replica approximately 60% smaller and lighter than the original "King of Boomboxes" released in 1981. The M90 MINI BLASTER is designed to be played loud, featuring two 3" mid range speakers that deliver a total of 30 watts of massive power. The durable box is constructed using only high-quality materials and is packed with built in features including independent bass and treble tone controls, AM/FM tuner, up to 40 hours of battery life with enough power to charge most USB compatible devices, and comes complete with a wired remote control and more!
Frequently Asked Questions
The M90 MINI battery takes approximately 12-16 hours for a full charge. The LED will turn green once fully charged.
The independent EQ feature controls on the M90 MINI are: Bass, Treble, Balance, and Volume.
Yes, there is a functional FM radio tuner on the M90 MINI, and the antennas are designed to help pick up the signal.
Yes, in addition to the M90 MINI connecting to your device via Bluetooth, or FM radio, it also features the ability to play mp3 music files via an SD card or USB flash drive. (Note: please make sure all music files are copied directly to the HD card, and not saved in folders).
That is the low battery indicator sound, meaning it's almost time to recharge your M90 MINI.
No, real cassettes are much bigger. The tiny replica cassette enclosed, does fit perfectly inside of the cassette deck on the M90 MINI, for added authenticity.
Pressing the MODE button will allow you to switch between Bluetooth, FM tuner, and the USB/SD/AUX.